Let me tell you something about POMCH!
POMCH is a leather goods designer brand based in Hong Kong, founded in 2011. The brand started up base from a university project, a unique creation from experiment testing with industrial technology - vacuum forming. The product was a big success and had been selected and sponsored by The Hong Kong Polytechnic University for launching POMCH's first collection – Vacuum Forming series. POMCH has now successfully launched two concept stores in Hong Kong, point of distribution around worldwide fashion retailers.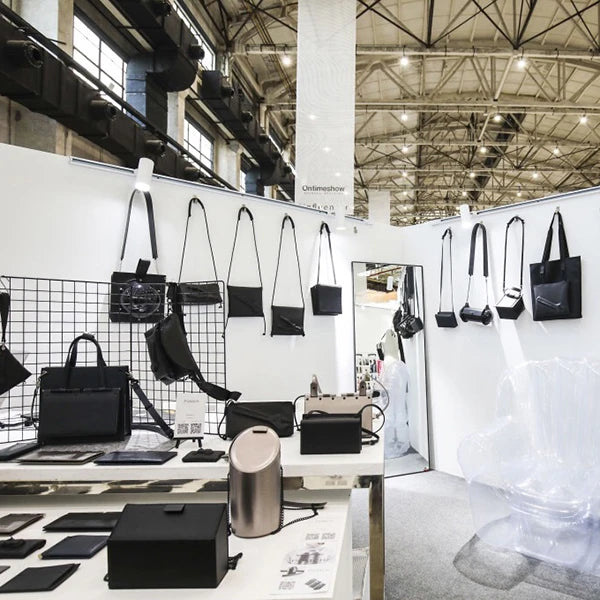 POMCH not only participates in fashion accessories design, but also cooperates with brands and companies in interior design, graphic design, installation art, advertising cooperation, POP UP setup, etc., including IT, New Balance, MAC Cosmetic, Canon, D-mop, Bauhaus, Tiger Beer, Log-on, D2 place and more. Through different cooperation, activities and exhibitions, we have continued to create unique and innovative products for POMCH and Hong Kong design, which are different from traditional design companies.
How about the Brand concept?
"POMCH" is simulating the punching sound of machine, which is sharp, strong and precise. This is coherent with the concept "Industrial Essentials" - merges the fundamental industrial elements and designs into fashion designs, to create unique yet elegant collections. The value of industrial design is about creating a wonderful relationship between human and objects, in terms of function, shapes and experience. We take inspiration from shapes of machines, production processes, and philosophy of industrial design, creating products with unique shapes and interesting experience.
POMCH products are unisexual, strong in design, and special in shapes. We extract the key feature from industrial designs and merge it into fashion items. We want to create unique experience to customers via our products.