with our 3D customization tool!
3Dカスタマイズツールで夢のバッグを作ろう!
- Sling / Waist Bag
- 25cm x 18cm x 5cm
- Unisex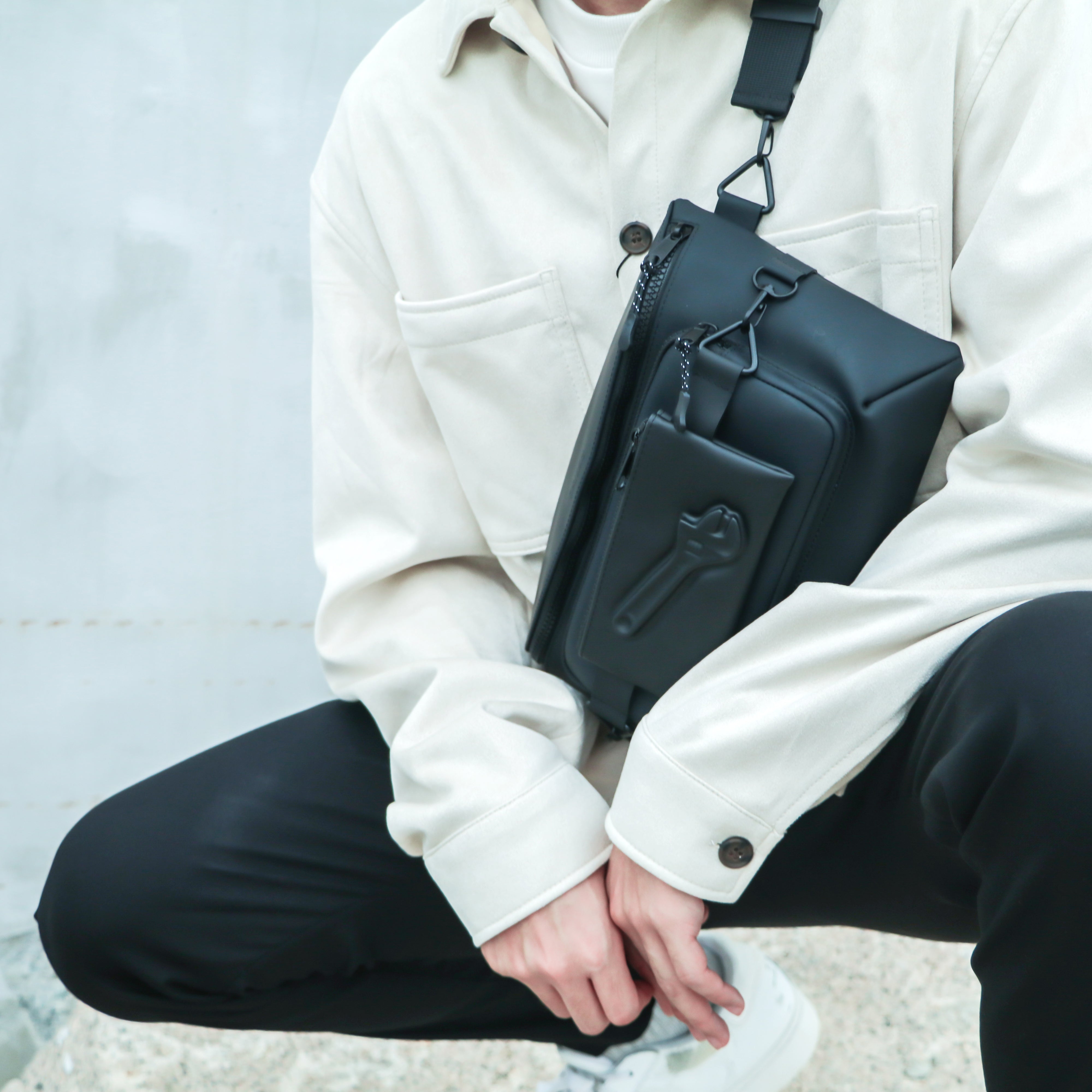 - Sling / Waist Bag
- 30cm x 8cm x 18cm
- Unisex

- Tote Bag
- 33cm x 3cm x 38cm
- Unisex

- Coin Case / Card Holder
- 11cm x 3cm x 7cm
- Unisex

Many people often ask us...
if they can personalize their bag with their name on it. Well, the answer is a resounding yes! We understand how important it is to showcase our unique personalities and stand out from the crowd. That's why we offer a bespoke service that allows you to create a POMCH bag that is truly yours - not just from our existing designs. You can add 3D text or even objects to your bag, expressing not only your name, but your beliefs and style as well.

Imagine the look of delight on someone's face when they receive a personalized bag as a gift - it's a fantastic idea! So go ahead and let your creativity run wild. Contact us today to create a custom-made bag that's perfect for you or that special someone.
名前を入れてもいいですか?はい、私たちは誰もがユニークであり、他との違いを示したがっていることを理解しています。それが私たちがあなたに最も適したPOMCHバッグを提供する理由です。私たちが提供するデザインだけでなく、あなたが3Dテキストやオブジェクトを追加できるようにします。あなたの名前だけでなく、あなたの信念やスタイルを表現することができます。カスタムメイドのバッグで誰かを驚かせるのは素晴らしいアイデアです多くの人々が私たちに尋ねます。「私の名前を入れてもいいですか?」はい、私たちは私たち一人一人がどれだけユニークであるか、そしてその違いを示したがっているかを理解しています。そのため、私たちはあなたに最も適したPOMCHバッグを提供し、単に提供しているデザインだけでなく、カスタマイズを提供しています。あなたはバッグに3Dテキストやオブジェクトを追加することができ、あなたの名前だけでなく、信念やスタイルを表現することができます。

カスタムメイドのバッグを贈ることは素晴らしいアイデアです。誰もが喜ぶでしょう!あなたの創造性を自由に発揮してください。あなたにぴったりのカスタムメイドのバッグを作成するために、今すぐお問い合わせください。

Customer Comments
個人的に海外での通販は初めてだったので、結構ドキドキしていましたが、香港から海を越えてやってきたのは、丁寧で職人の愛情がこもった素敵なウォレットでした。
設計獨特有型,車線、拉鍊、收邊各方面都十分細膩,質感非常好!而且實品比照片還好看,喜歡賣家經營上的用心與周到,已擄獲我的心!一定繼續支持!
I bought it as a gift, but I'm glad I bought it because it was really nice than I saw in the picture! I'm sure you'll like it!